Image Resource: unsplash.com
India just cannot be summed up by one aspect, whether it is history, beauty, culture, cuisine, variety, or anything else. India is a banquet where all of these locations coexist in harmony. While India certainly has no shortage of amazing tourist destinations, not every gem makes the cut. There is always a single supreme option that outclasses all others.
We've traveled those miles, too, in order to bring you 15 of our favorite spots in India that showcase the country's many unique charms and deserve their position at the top of every traveler's itinerary. If you're planning a trip, don't forget to check out cheap flights to India and embark on an unforgettable journey! Let's Explore!
Sikkim, a sparkling jewel of the North-East Himalayas, is often regarded as one of India's most picturesque regions. The third-highest peak in the world, Kanchenjunga (at 8,586 meters), is located in this region of northeast India. Sikkim is a wonderful place to visit in India for a relaxing vacation and exciting outdoor pursuits.
Spiti Valley is a beautiful and picturesque region that is well-known for its mysterious landscape, monasteries, hiking trails, and partially frozen rivers and lakes. Because of these factors, Spiti is often visited by photographers, hikers, and other outdoor lovers. May and June are the perfect summer months for sightseeing and adventurous activities, making them the greatest times to explore the Spiti Valley.
Meghalaya is a state in Northeast India that is sometimes referred to as "the home of clouds" due to its location in the midst of the pine-covered Khasi and Garo Hills. Meghalaya, one of the most beautiful states in North East India, is a popular travel destination for hikers, spelunkers, and environment enthusiasts due to its abundance of waterfalls, caverns, lush forests, and glittering lakes and rivers.
In the midst of nowhere in India lie the incredible cave complexes of Ajanta and Ellora. Because of their stunning artwork, they have become one of the world's most popular tourist spots. The art and mythology housed inside these more than thirty caverns make them one of India's top tourist destinations, and their sheer size inspires awe in anybody fortunate enough to see them.
Located in the Indian state of Uttar Pradesh, Agra is home to the iconic Taj Mahal, a symbol of eternal love.  Visitors from all over the globe come to see the city's three crown jewels—the Taj Mahal, Agra Fort, and Fatehpur Sikri—and be captivated by their beauty.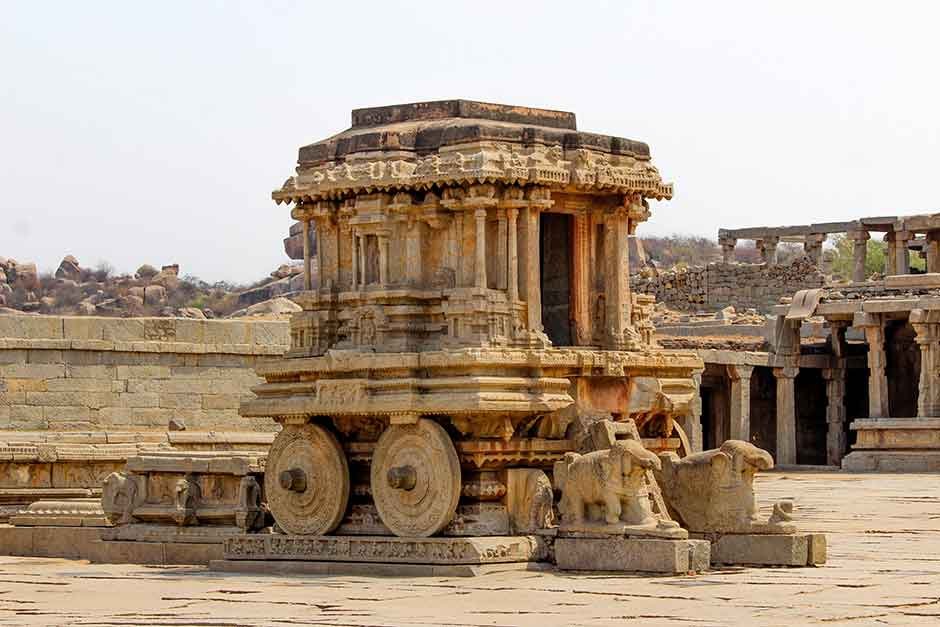 Image Resource: unsplash.com
Hampi, a UNESCO World Heritage Site, originated from the ruins of the Vijaynagar Empire. The Hampi ruins are known as the Hampi Group of Monuments. There are 56 pillars in the Vithala temple that, when pressed, produce a different musical note. The perfect concordance of archaeology and science is a thing of beauty.
Built by Mughal Emperor Jahangir in 1619 AD for his wife, the Mughal Garden in Srinagar is the greatest Mughal garden in Kashmir valley and possesses beauty unrivaled by any other garden you'll see in the nation. The Mughals left a lasting legacy in horticulture with their beautiful residence. The site is a massive 31 acres in size and has stunning Mughal architecture.
India has so many national parks enriching and highlighting the wildlife of the country, but nothing beats the fauna of Madhya Pradesh and one such national park of Madhya Pradesh is the Kanha Tiger Reserve which makes it one of the best places in India to enjoy wildlife. Madhya Pradesh is the perfect jungle getaway for every nature lover.
Kashmir justifiably earns its reputation as a true paradise on Earth. There are several beautiful and significant landmarks here that you just won't be able to forget after a visit. The lasting imprint they make on your mind is remarkable. Srinagar's Dal Lake is undeniably one of Kashmir's most prized attractions. Ladakh is home to the stunning Pangong Lake. One of India's greatest tourist destinations is these azure lakes surrounded by snow-capped mountains.
Goa, one of India's most popular travel destinations, is known for its stunning coastline and a wide variety of beach activities beyond sunning and swimming. It's India's top beach destination since it has shacks, beach bars, adventure sports, seafood, music concerts, and flea markets. Beaches are one of India's top tourist destinations because they provide peace and quiet.
Just think how much stress and anxiety you might relieve by spending a day on the houseboat. It's up there among the most soothing spots in India. A trip on a houseboat through the palm-fringed backwaters of Kerala is an unforgettable experience, with the verdant terrain, abundant animals, and quaint towns along the waterways.
Ladakh is one of India's most popular tourist destinations because of its high mountain routes, desolate mountains, alpine lakes and meadows, lovely valleys, and historic, colorful Buddhist temples. Both thrill-seekers and eco-tourists will find it to be a paradise. There is no other location in India quite like Ladakh.
Image Resource: unsplash.com
Varanasi, India, is home to some of the most revered religious sites in all of Asia. We can guarantee that there is no other location on Earth like this one. Attending the sunset aarti on the banks of the Ganga River will transport you to a place of profound serenity and tranquility from which you may not emerge for some time.
The Indian state of Rajasthan is the epitome of regal majesty and royal magnificence. The state is not just historically significant, but also visually stunning and royally impressive. This Indian travel destination not only provides a rare glimpse into the daily life of the locals but also speaks eloquently about the country's illustrious history.
Image Resource: unsplash.com
The Andaman and Nicobar Islands are the place to go if you're an adrenaline junkie in need of a release valve. Air sports and other activities are just as professionally executed as those on the sea. The Andaman Islands are beautiful and one of the most popular tourist destinations in India due to their convenient location near a jetty where visitors can engage in jet skiing, speed boating, and other water sports.